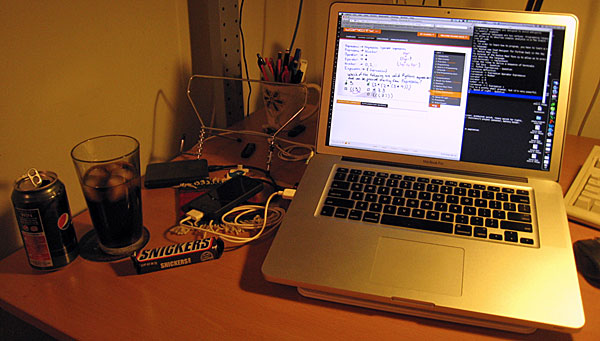 UDACITY
by Richard White
2012-04-03
Today I finished the first online course that I've ever taken, thanks to my professor David Evans and Udacity founder Sebastian Thrun… and the experience has changed my life.
If you haven't heard about Udacity you might consider a) going to udacity.com to wander about the website, or b) reading the excellent writeup in Wired magazine. But the upshot of it all is this: education is never going to be the same.
MIT's OpenCourseWare offerings were a fine way to get the online education experience started—who can argue with access to top-notch professors at a world-class university? And Sal Khan's Khan Academy offers increased granularity in bite-sized chunks at the secondary school level.
What makes Udacity so amazing, though, is the platform that they've developed to deliver and manage true online learning. Thrun identified nine components that he considered essential for education at the university level:
admissions
lectures
peer interaction
professor interaction
problem-solving
assignments
exams
deadlines
certification
While Udacity hasn't completely solved every one of these problems yet, it is well on its way. I greatly enjoyed taking the inaugural CS101 Intro to Computer Science course, a seven-week curriculum that used the context of "building a search engine" as a vehicle for presenting core computer science concepts.
I'll admit right now that I was well-acquainted with the subject matter—I teach an Intro to Computer Science course myself—but that doesn't mean that I didn't find most of the assignments entertaining, and some of them quite challenging.
If you haven't had a chance to try out an online course yet, I strongly encourage you to do so. Both Udacity and Coursera have plenty of fine offerings in a wide variety of fields.
It'll change the way you look at education.