Losing the Functional High Ground
by Richard White
2016-10-26
The title of this post is a direct reference to Marco Arment's excellent online essay from January 4, 2015, Apple has lost the functional high ground. If you haven't read that post, in which Marco points out that Apple's software quality has fallen off in the past few years, you should check it out.
Since that post was written, Apple's success as a computer company has suffered other slings and arrows at the hands of former admirers, and most recently, on the hardware front. For a variety of reasons, Apple's once formidable line of "best in class" computers has been reduced to a rag-tag selection of pretty, well-made, computers that run pretty nicely considering you've just paid top dollar for a new machine built from four-year-old hardware.
In 2013, Apple's Phil Schiller unveiled the sleek, new, Mac Pro at the World Wide Developer's Conference, with a defiant "Can't innovate any more my ass!" for the benefit of observers who felt even then that Apple might have started to lose its way. Now, over three years later, that Mac Pro hasn't seen a single upgrade, and Schiller's sneer has become a sadly ironic comment on the ongoing state of affairs.
MacRumors, a fan-site so faithful they've got "Mac" in their name, maintains a Buying Guide for its readers, with listings on the current state of Apple's hardware, and recommendation on whether now might be a good time to buy or not. Here are their recommendations as of a few weeks ago.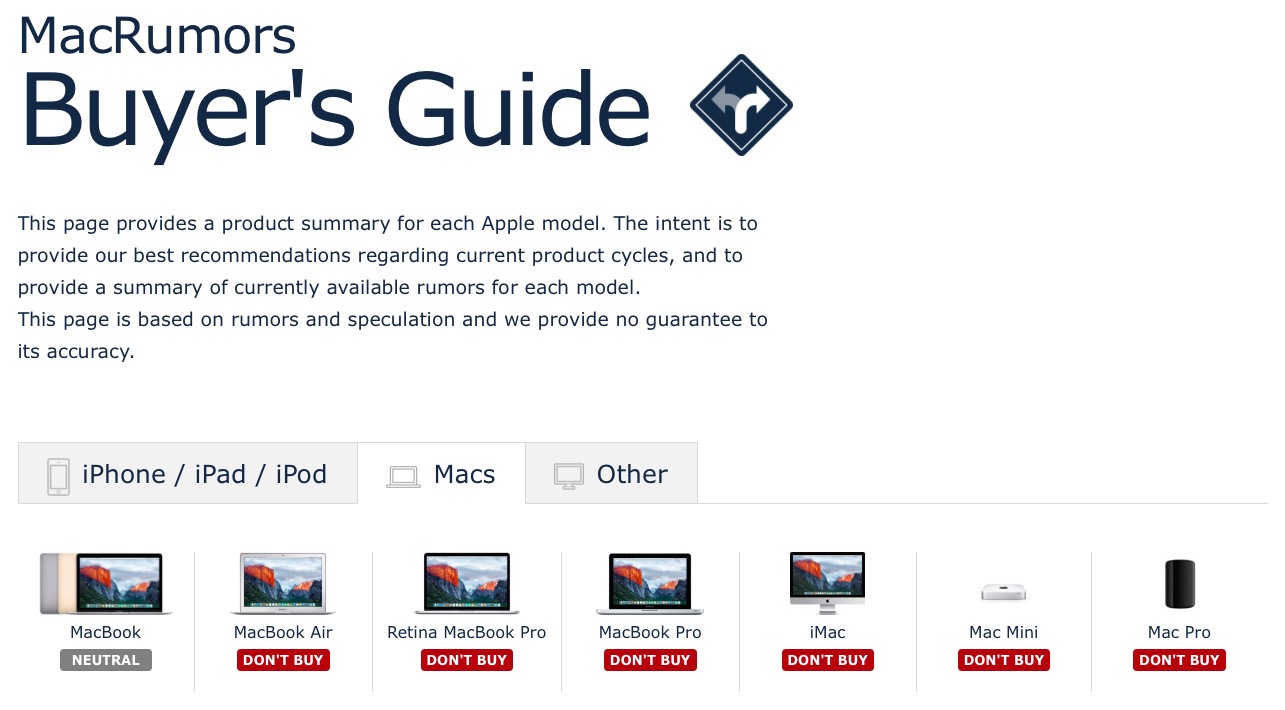 For anyone who has been a fan of Apple over the years, it's painful to watch this decline. There may be some comfort in knowing that they've got the best selling mobile phone on the planet, and a good thing, too: that single product line, the iPhone, accounts for almost two-thirds of Apple's revenue.
There's a reason they removed the word "Computer" from their company name, "Apple Computer, Inc." back in 2007.
John Gruber disagrees with Arment's characterization of Apple: "…if they've 'lost the functional high ground', who did they lose it to? I say no one."
It appears to me and to other observers that they've lost it to themselves. Their development of computer hardware and OS X software has effectively been abandoned in favor of their cash cow, the iPhone.
This is written on the eve of a much-awaited product release from Apple. I have every hope that the new products they announce tomorrow will restore our faith in the company.
And I have every fear that we will be disappointed.
Follow-up