Well, I suppose it had to happen sooner or later…
I've been Sherlocked.
If you're not familiar with the term "sherlocked," it comes to us courtesy of Apple, which back in the day offered a file search capability on its OS called "Sherlock." The original feature set of that capability was expanded upon by a third-party developer who crated a software tool "Watson" that served as a companion to Sherlock, with the ability to search the Internet, perform calculations, look up references, etc. It was such a useful tool that Apple, in a subsequent release of the OS, incorporated almost all of those same features into their software. The developer was no longer able to make any money off the software he had developed–he had been "Sherlocked."
This wan't the first time that such a thing had happened. The first case of this happening that I'm aware of is back in the early Macintosh days (System 7), when Steve Christensen's SuperClock! utility was written to allow the computer to display the time in the upper corner of the screen. This eminently useful feature was incorporated into System 7.5, along with a number of other features adapted / adopted/ stolen from other software developers. A lot of people view this as simply the cost of doing business with a large, powerful organization, but it seems like a bitter pill for a hard-working developer to have to swallow.
You can learn more about the process of being Sherlocked by Apple at:
What does this have to do with me?
A couple of days ago, I received an email from the College Board announcing some new features that were being added to the College Board website.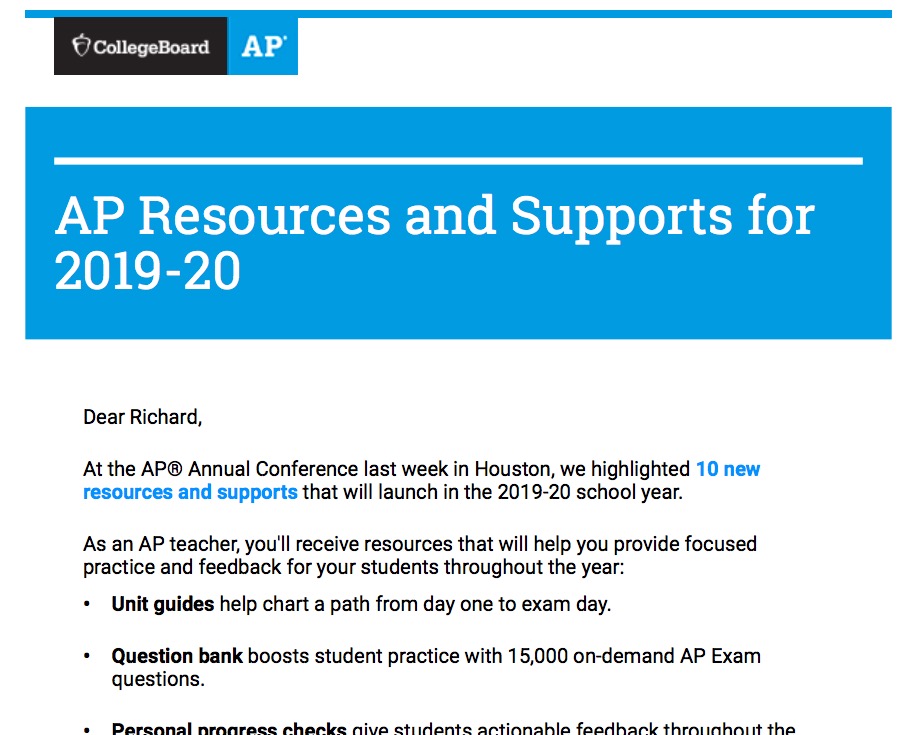 That "Question Bank" that supports students with 15,000 on-demand questions? That's my idea! That's exactly what the learnapphysics.com website has been doing for the last ten years.
Okay, to be fair, people have been publishing banks of test questions for years, and the SAT "Question of the Day" was a thing that I took as inspiration for my website, so… I can't complain too loudly here. In fact, I'm not complaining at all. I'm glad that the College Board has caught on to the idea that there are lots of ways that they can support students taking their courses.
But if anybody asks, I'm going to come right out and say it: "Yeah. I got Sherlocked by the College Board."