Volunteering: YouTube comments as community service
===================================================
2017-07-14
———-
by Richard White
—————-
My school has a "Community Service" component to the graduation requirement for students. They must volunteer for a given number of hours in service to the community, and there are a variety of ways they can do this. Some opportunities are described by the school, but it's certainly possible to develop your own community service opportunity and have that count towards your requirements.
Is it possible that commenting on YouTube might count towards Community Service?
I think of this possibility as I consider my own activity on my YouTube channel (https://www.youtube.com/rwhite5279), where I post videos occasionally, most of them related to computer science and computational thinking. I've built up a small following since I began posting 9 years ago: nearly 750,000 total views, and nearly 3000 subscribers as I write this. Increasingly, viewers of some of the computer science tutorials have begun leaving questions in the comments section.
This one, for example, on a tutorial on how to use object-oriented programming in Python to simulate a Magic-8 Ball toy that predicts the future (at https://www.youtube.com/watch?v=6drqLGdXHQA ) :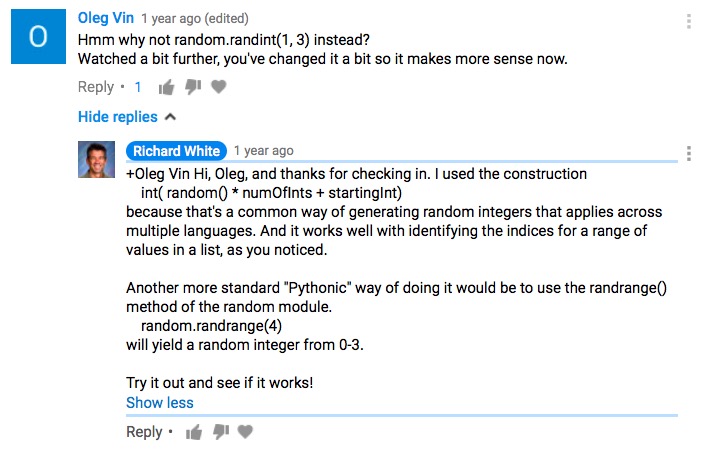 You can see the question there, followed by a response from me. Here's another example, a question and response for the same Magic-8 Ball tutorial: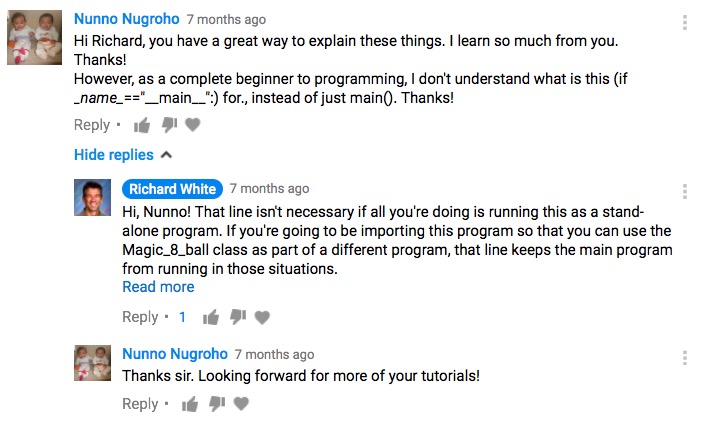 I have a number of friends, teachers or no, who volunteer time in their local community: serving food at the local soup kitchen, visiting people in nursing homes, tutoring students after school. I occasionally get the question "What are you doing on the computer there?" and sometimes find myself answering "I'm responding to a question someone left for me on YouTube."
Isn't this a form of Community Service? Isn't this a form of Volunteering?
Another introduction to object-oriented programming (at https://www.youtube.com/watch?v=wYYzteRKU7U ) prompted this selection of comments (and accompanying responses):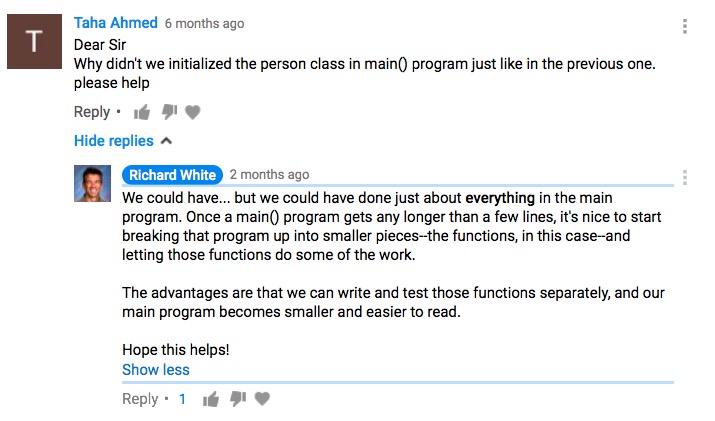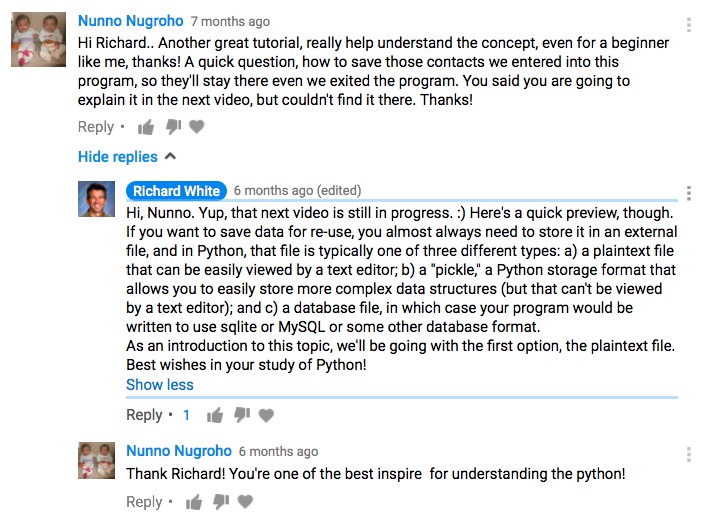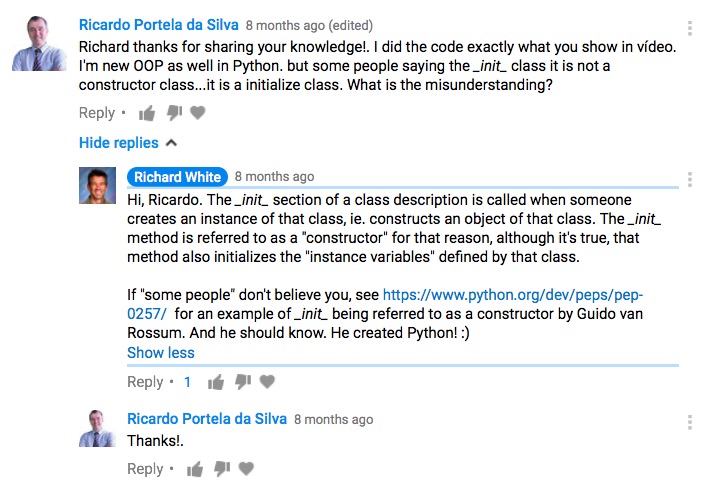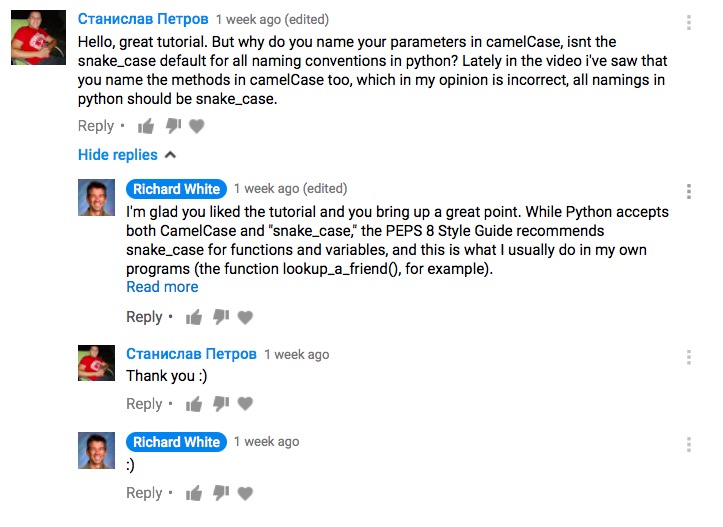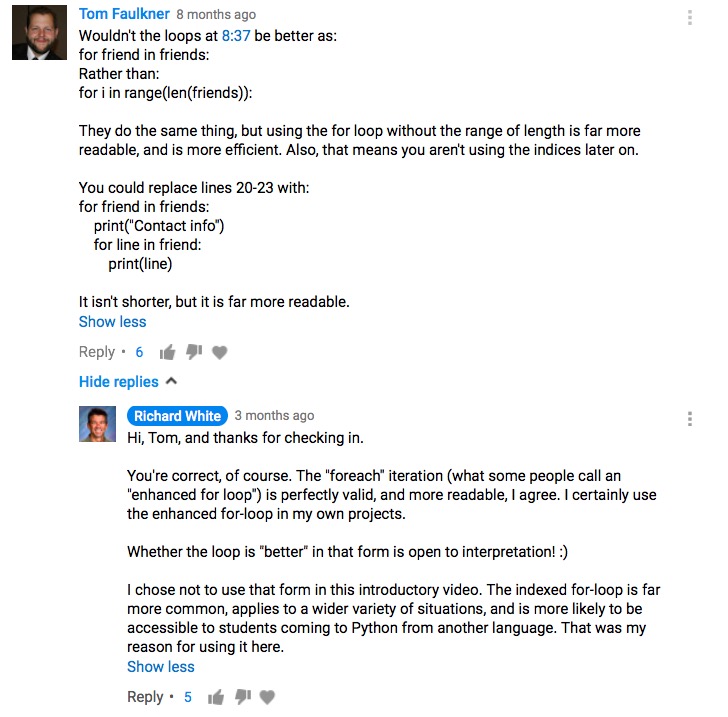 I'm well aware of the fact that online comments—"where nobody knows you're a dog"—can be challenging: to respond to, to clean up (in cases of misuse or spam), to moderate. Some "discussions" become downright toxic, to the extent that some communities with a broad appeal have had to shut down the comments sections on their sites: if the conversation can't be civil, there'll be no conversation at all. In those cases, that strategy is probably the only one that makes sense.
In my little corner of the Internet, however, things are just fine, for the moment anyway. There's not much fun to be had trolling computer science tutorials, and maybe that has helped to keep things a little more in-focus and on-topic.
Now, if you'll excuse me, I have to get back to answering more questions. There is volunteering to be done, and I'm just the guy to do it. :)