Presentation Mode
=================
2016-12-07
by Richard White
It's Computer Science Education Week, and for the fourth year in a row I've conducted presentations at our Lower and Middle Schools for an Hour of Code with 5th and 7th graders.
I've got a bit more on my plate than usual this year, so I tried to minimize time spent emailing/calling/coordinating with various administrators, tech coordinators, and teachers. I work with a great group of people who helped make some of that happen—our Middle School Tech Coordinator was instrumental in navigating some of that, and my Upper School director committed early to giving me time off from my classes to go conduct those sessions. Also, our Lower School Technology Integration Specialist took on some of the heavy lifting for the first time this year, identifying activities that might be well-suited for the 5th graders.
I'd been a little smart about things too: the Hour of Code webpages that I'd set up previously were still live, and a handy reference for those who wishe it. The presentation materials that I've developed over the years were pretty much ready to go as well, with some minor modification and editing. I've been switching from PowerPoint to LibreOffice, and my software on the laptop was good to go.
Now, how about that hardware?
Every presenter has their list of hardware that they need to be sure to bring along to a presentation, particularly if you're going to be away from your home base for the day/week. What to bring with?
Laptop
Camera/cellphone for documenting event
Charger and charger adapter
Logitech wireless presenter (R400)
Lightning port-to-HDMI cable (spare)
Lightning port-to-VGA dongle (backup)
USB key with presentation materials (backup)
I'd been to one of the rooms I would be presenting in, and knew that it was probably already stocked with the various power supplies and cables that I'd need, but you never know. Most of the items on that list there are simply backups or replacements for items that I expect will already be there.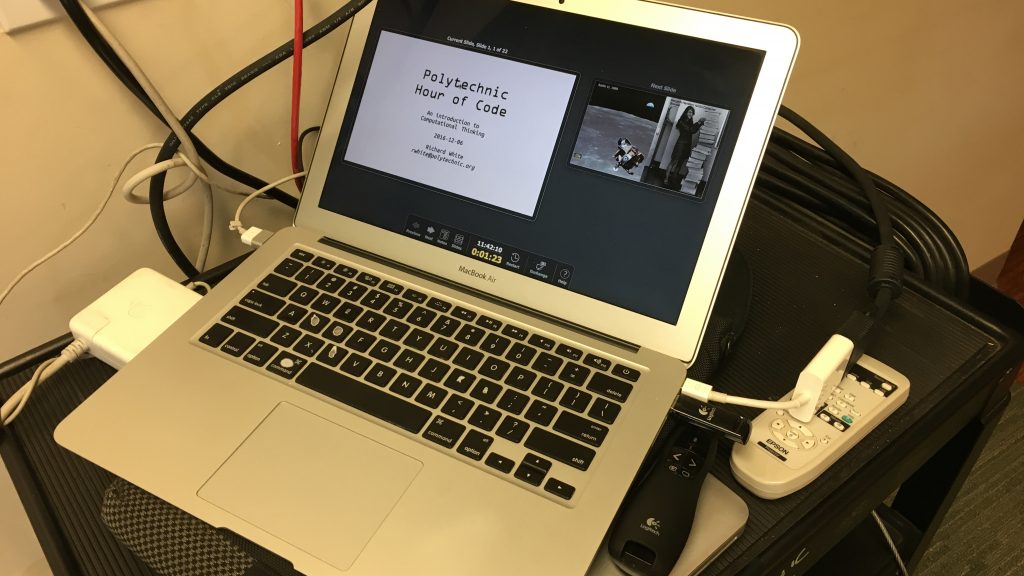 I got to the room, got things set up, checked out the projector to make sure it was working, double-checked the video that I'd be running in the presentation for sound… I was good to go!
I went to grab a marker to write my name on the whiteboard… no markers? Oh, there's one. An old low-odor marker for which someone has left the cap off. I tried to write my name, and it left a half-visible mark on the board. I went to erase it and… no eraser.
Who has whiteboards with no working pens or erasers?
I scrambled around a bit and managed to scare some up just in time for the presentation.
It just goes to show you…
Looks like I have a couple of additional items for my hardware list. :)